ByP4Dev Transnatioal Project Meeting – Cēsis
Recently projects' ByP4Dev partners met in Cēsis, Latvia to hold the fifth transnational meeting and learn about the good practice examples from an international research and innovation organisation.
During the last meeting, different creative and innovative education tools were analysed to find the best approach for the pilot training course "A training Course in expert in by-products and wastes valorisation in agri-food sector" which is composed by modules and training units. This time the aim was to update the partners on the development of these modules and plan the next steps.
Additionally, we looked at the integration process of the training content in the eLearning Platform where it will be tested and discussed the usage of innovative tools, such as AI provided avatar and voice services.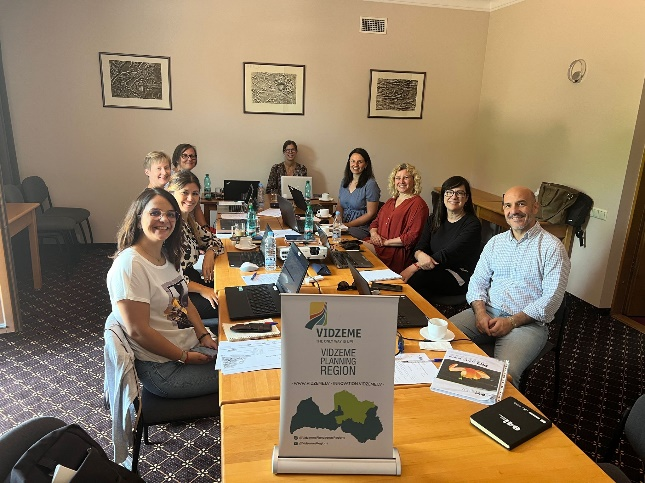 During the second part of the meeting, Vidzeme Planning Region elaborated on their main task – development of a Blueprint and Policy Recommendations Guide to involve the key policy makers and stakeholders for the recognition of project learning outcomes as well for supporting the integration of by-product valorisation skills into occupational standards. Currently it is of great importance to evaluate the information put in this guide to reach the maximum efficiency.
The last step was to discuss the involvement in dissemination of the project results and usage of the communication tools. Once all activities related to the project management were discussed, the consortium agreed to meet online at the end of September 2023.
Afterwards, the partners visited The Institute for Environmental Solutions (IES), which is an international research and innovation organisation. The main activities of IES are related to Earth observation and remote sensing, sustainable forest and farmland management, wildlife ecology, cultivation and processing of medicinal plants, chemistry of natural substances, waste minimisation and application of bio-economy principles. Representative of IES shared their experience about a biorefinery approach for the development of bioactive cosmetic ingredients from by-products of medical plant processing and plant cell cultivation. Website: https://www.vri.lv/en/home-2/